Graduates Ready to Attain Success in Postsecondary (GRASP) Program
About GRASP              
GRASP logo
The Graduates Ready to Attain Success in Postsecondary (GRASP) Program Grant aims to support selected Georgia high schools as they work to increase student success in achieving high school graduation, completing postsecondary programs, and productively participating in the workforce. 
Operated by GOSA, the GRASP grants provide selected high schools with funding for one additional counselor to support a specific and limited caseload of at-risk students in achieving academic, personal/social, and career development success. Allowable grant expenditures include salary, benefits, and travel expenses to required training for the additional counselor. Depending on personnel selection, grant funds may not be adequate to cover 100% of the salary and benefits. Grant amounts range between $110,000 and $125,000 each. 
GRASP counselor duties will include, but will not be limited to:
conducting in-depth student analyses to understand the population needs and establish an appropriate caseload;
providing supportive one-on-one student collaboration to create individually tailored plans and programs of study for each student on his or her caseload;
establishing a comprehensive team to provide student support for each student on his or her caseload; and
engaging his or her caseload students in discovering, examining, and exploring postsecondary options and possibilities.
Currently, GRASP is a two year grant program, with two participating cohorts of counselors and students. The first cohort (Cohort 1) includes eight schools, in six districts throughout Georgia. Cohort 1 began in School Year 2018-19, and is set to close out at the end of School Year 2019-20. The second cohort (Cohort 2) includes ten additional schools, in four other districts. Cohort 2 began in School Year 2019-20, and is set to close out at the end of School year 2020-21.
Current grant opportunities are closed at the present time; please continue to check back for new grant opportunities.
Current Awardees
GRASP cohort 1y2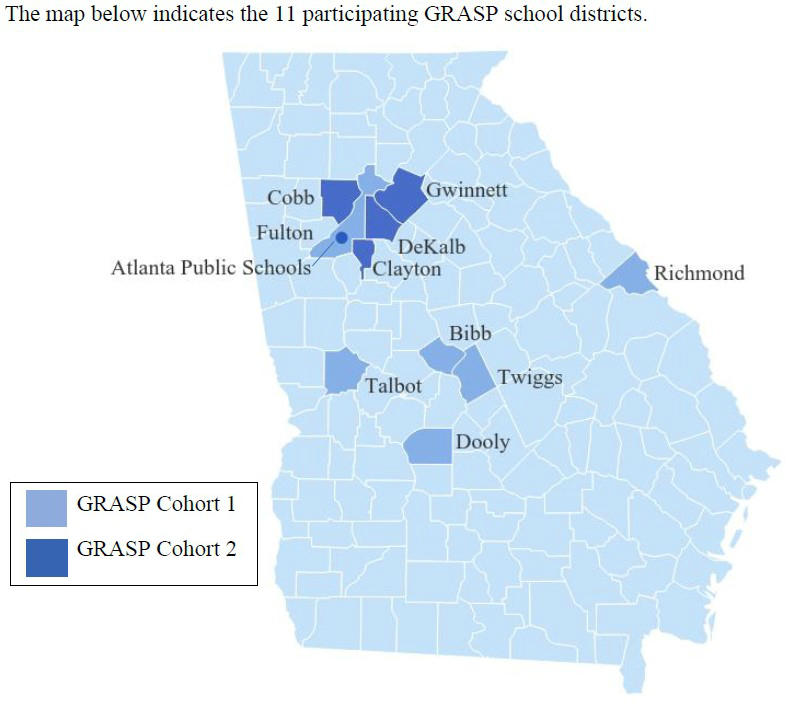 Cohort 1
Bibb County
Southwest High School
Dooly County
Dooly County High School
Fulton County
Banneker High School
Tri-Cities High School
Richmond County
Butler High School
Josey High School
Talbot County
Talbot Central High School
Twiggs County
Twiggs County High School
Cohort 2
Atlanta Public Schools
Douglass High School
Clayton County
Forest Park High School
North Clayton High School
Cobb County
Osborne High School
DeKalb County
Clarkston High School
McNair High School
Stone Mountain High School
Towers High School
Gwinnett County
Berkmar High School
Richmond County
Performance Learning Center
GRASP Program - Related Files