Measure how well RT3 projects prepare GA students for college and career success
Here, we are interested in observing projects that aim to prepare students for college and career.  The projects include:
The evaluation is based on the following theory of change: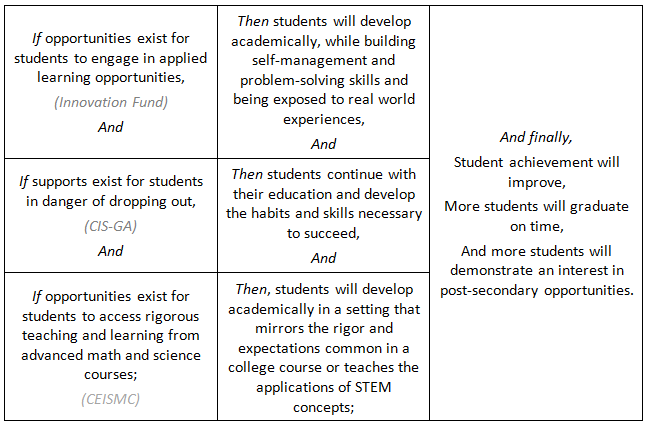 In fall 2012, GOSA contracted with The Findings Group to develop the Applied Learning Student Questionnaire (ALSQ) for the Race to the Top Innovation Fund Round 1 and 2 applied learning grantees. The ALSQ measures changes in student intrinsic motivation, self-management, and intent to persist in Science, Technology, Engineering, and Mathematics (STEM) studies. The survey also asks students about problem solving and implementation activities in each program.  GOSA highlighted the results of the fall 2012 administration of the ALSQ in the February e-bulletin.
Innovation Fund grantees will submit regular progress reports to GOSA based on the evaluation priorities.  Priority 1 Applied Learning projects will report on their participants' demographics, unique elements of their program design, which includes instructional methods and "real world" exposure activities, participant engagement, participant outcomes, including student academic achievement, and sustainability and scalability.
CIS-GA is creating three new Performance Learning Centers for dropout prevention as a result of Race to the Top.  They will submit regular progress reports to GOSA based on our evaluation priorities.  They will report on their participants' demographics, enrollment, engagement and participant outcomes including, student academic achievement and personal development.
CEISMC, the Center for Education Integrating Science, Mathematics, and Computing, is an institute within Georgia Tech that provides support to educational groups, schools, corporations, etc. aimed at strengthening K-12 STEM education in Georgia.  CEISMC's RT3 work emphasizes online and distance learning (videoconferencing) environments for STEM learning.  Over the next two years, CEISMC will offer several courses to middle and high school students.  Our evaluation of their work will focus on determining whether students were better prepared for future courses as a result of taking one of the CEISMC courses.  We intend to conduct a quasi-experiment of the high school course(s) and the middle school course.
The following table provides evaluation reports or the expected dates the reports will be posted.
---
[1] The inclusion of the GaVS courses depends on whether CEISMC will have a class of its students who enter college and finish their first semester before the end of the grant.
The contents of the reports on this website were developed under a grant from the U.S. Department of Education. However, those contents do not necessarily represent the policy of the U.S. Department of Education, and you should not assume endorsement by the Federal Government.