Connections for Classrooms: Improving School Internet Connectivity and Enabling Digital Learning
April 29, 2015
By David Evans
Introduction
In response to the growing need for a globally competitive and technically literate workforce, Governor Nathan Deal signed an executive order on April 30, 2012, creating the Digital Learning Task Force (DLTF) for the state of Georgia. Comprised of education stakeholders from throughout the state, the task force assessed digital learning in Georgia and developed recommendations for improvement. The final report, released on December 17, 2013, consisted of three categories of recommendations: Infrastructure, Digital Content and Courses, and Blended and Competency-Based Learning. 
The Connections for Classrooms (CFC) program was developed in response to the infrastructure needs referenced in the DLTF final report. This month's education update explains the CFC grant program and highlights how school districts will use these funds to implement digital learning in Georgia's K-12 schools.
Connections for Classrooms Grant Program
This summer, every school district will receive increased bandwidth, equivalent to 100 Mbps per school, through the expansion of the University System of Georgia's PeachNet. CFC grants will build out district- and school-level infrastructure equipment needed to ensure that schools can fully utilize that connectivity. The CFC grants fund infrastructure at the Tier 1 (District), Tier 2 (School), and Tier 3 (Classroom) levels. These tiers are illustrated in the figure below.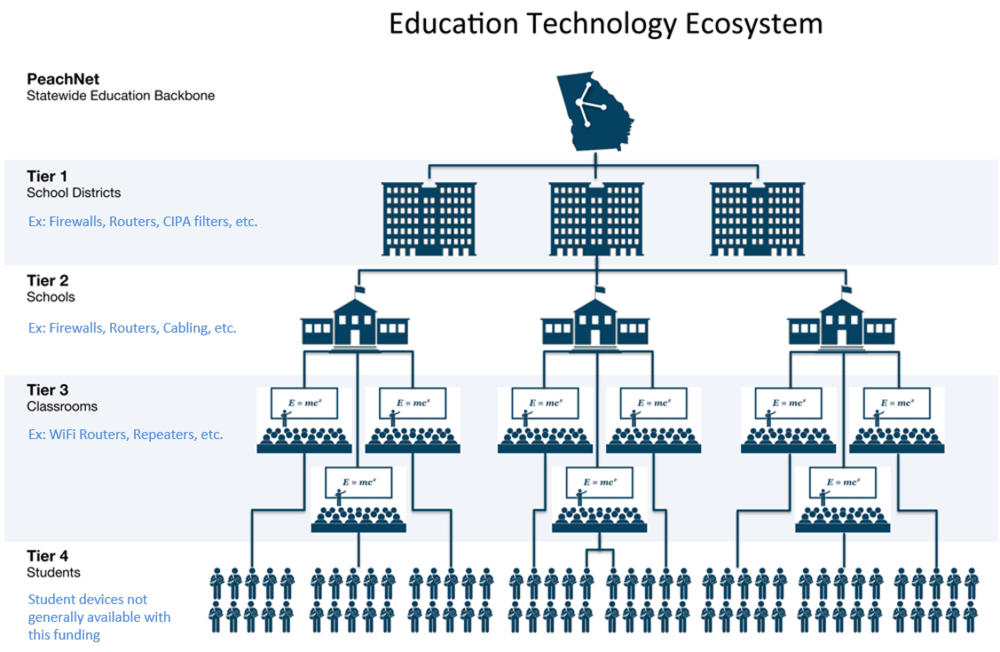 Connections for Classrooms was initiated in early 2014 when Governor Deal proposed and the General Assembly approved a budget proposal that included $14 million in bond funds for the Georgia Department of Education (GaDOE) and $25 million in general funds for One Georgia Authority at the Department of Community Affairs (DCA) to build out district- and school-level network infrastructure. While GaDOE distributes its funds, the Governor's Office of Student Achievement (GOSA) administers the funds provided by One Georgia Authority.
In June 2014, GOSA and GaDOE opened a unified application process for CFC grants to local education agencies (LEAs), which include districts, state schools, and state charter schools. In addition to detailing their technology expansion plans, applicants had to spell out how this grant award would enable them to implement digital and blended learning, improve student achievement, and align with the recommendations of Governor Deal's Digital Learning Task Force. Grants were awarded on a competitive basis, as the funding could not meet the needs of every LEA. Each application was scored by four independent reviewers, two technical and two educational, using the previously published rubrics, and grant awards were determined based on the application score and LEAs requested funds.
146 LEAs (143 districts, 2 state charter schools, and 1 state school) applied for more than $198 million. Once the proposals were scored, 104 local education authorities (102 districts, 1 state charter school, and 1 state school) were awarded almost $37 million. [1] Only the top 6 applicants were awarded funds in all 3 tiers, while another 98 LEAs received full funding for Tier 1 and partial funding for Tier 2 needs. [2] Click here to view a map of the districts receiving awards. [3]
CFC's Effect in the Classroom
By improving infrastructure, CFC-funded projects will remove a critical barrier to effective digital learning in Georgia classrooms. As an example,  Baldwin County Schools, located in middle Georgia, will use CFC funds to allow students to utilize more digital resources and online classes.  Using these resources, students can learn and progress at their own pace and can choose the time and location that best suit their learning needs.
In South Georgia, CFC will allow Thomas County Schools to provide the necessary infrastructure to support digital content, digital courses, and blended learning that can transform the learning environment in a way that has not been possible previously. Students in grades 1-4 will have the opportunity to use handheld devices, such as iPads, cell phones, and netbooks, at any point during the instructional day.  These handheld devices provide increased opportunity for teachers to use formative assessment to tailor instruction to students' needs. 
Future Connections for Classrooms Rounds of Funding
As a result of the significant remaining infrastructure needs demonstrated through the 2014 grant applications, Governor Deal proposed and the General Assembly approved a budget that included an additional $30 million to the One Georgia Authority for another round of CFC grants.  Instead of directly funding infrastructure needs, these funds will be devoted to ensuring districts maximize federal infrastructure funds through the Federal Communication Commission's (FCC) E-rate Program, which provides discounted rates for school internet access and telecommunication needs. [4] In 2014, the FCC infused $2 billion in additional funds to focus on Category 2 services, which align with CFC Tiers 2 and 3, making federal funds available to more districts than in the past. LEAs that receive E-rate funds must fund a "local match" of the cost before being able to expend federal E-rate funds, which creates a barrier for many districts. As such, the goal of CFC Round 2 will be to fund the "local match" for all 146 districts that applied for 2014 grants but still have unfunded Tier 2 and 3 infrastructure needs.[5] 
GOSA will announce Round 2 awards on May 5, 2015.  By June 26, districts must inform GOSA of their intent to use the funds. Then, in early July, GOSA will open applications for Round 3, which will enable districts to apply that either did not apply for a 2014 grant or that have remaining E-Rate eligible needs after Round 2.
In total, the $30 million state investment will result in more than $100 million in federal E-Rate funds for Georgia schools' network infrastructure.
Summary
Connections for Classrooms is providing needed infrastructure support for Georgia LEAs to fully leverage increased broadband capacity in line with the Digital Learning Task Force's recommendations. As a result of CFC, LEAs with limited resources for infrastructure can purchase and install equipment critical for effective digital learning that will provide students with opportunities previously unavailable. By leveraging federal E-rate funds, CFC Rounds 2 and 3 will more than triple the state's investment in network infrastructure.
For additional information, please visit GOSA's website or contact Steve Korwan, Program Manager, at skorwan@georgia.gov.
1. One additional awardee was added after the initial press release due to the correction of a rubric scoring error, thereby increasing the number of awardees from 103 to 104.
2. For more information on the evaluation process and a list of the winning proposals and amounts, visit GOSA's website.  
3. Please note that the map has does not reflect any amendments to awards amounts or the additional awardee. Map created via the Carl Vinson Institute of Government at the University of Georgia and Georgia Technology Authority's Digital Georgia Program.
4 Round 2 will only fund Category 2 eligible items.  For more information on Category 2, consult the Universal Service Administrative Company's website.
5. These funds will be available for E-rate funding years 2015, 2016, and/or a previous funding year if the LEA currently has a Priority 2 E-rate commitment letter for which it has been unable to provide the required local match   The award amount will be calculated based on unfunded Tier 2 and Tier 3 requests.