Deal announces school award winners, updates list of chronically failing schools
Gov. Nathan Deal, along with the Governor's Office of Student Achievement (GOSA), today announced that 218 Georgia public schools in 53 districts will receive Highest Performing or Greatest Gains school awards, an increase of 31 schools from last year. In addition, GOSA released the 2015-2016 update to the School Grades website, which provides interactive school performance reports for all public elementary, middle, and high schools in Georgia. GOSA also updated the list of "chronically failing schools," which now has 153 schools in 35 districts, an increase of 26 schools since last year. 
"I congratulate all of the students, teachers and administrators in Georgia's award-winning schools who worked tirelessly toward these accomplishments," said Deal. "We must continue to equip Georgia citizens with updated information and tools like the Georgia School Reports website in order to allow parents and students to better understand school performance. The bright minds of Georgia's students are the state's most precious resource and I commend the schools that are exceeding expectations in preparing their students for future success." 
About the awards
The school awards, developed by GOSA and approved by the State Board of Education, are part of Georgia's Single Statewide Accountability System (SSAS). Highest Performing schools must earn a three-year average College and Career Ready Performance Index (CCRPI) Achievement Score that ranks in at least the 93rd percentile. Greatest Gains schools must earn a three-year average CCRPI Progress Score that ranks in at least the 93rd percentile. For more details on how awards are calculated, click here.
The 2016 Greatest Gains award winners consist of 139 schools across 50 districts and the 2016 Highest Performing award winners consist of 130 schools across 22 districts. Fifty-one schools in 14 districts are award winners in both categories.
At least 60% of eligible schools in Buford City, Decatur City, Forsyth County, Heard County and Oconee County received awards. Gwinnett County had the largest increase in award schools with 26 schools, compared to 13 in 2015.
About the website
The Georgia School Reports website provides easy access to information about a school's performance by compiling information from multiple sources into a single report. The report presents A-F letter grades for schools based on the CCRPI scores. These reports help parents, students, educators and communities have clear and concise school performance information so they better understand the strengths and challenges of their local schools. The CCRPI score, which ranges from 0 to 110, is based on state test scores, student growth on these tests, graduation rates and other factors. The Georgia School Reports website now contains data from the 2015-2016 school year.
The A-F letter grade scale summarizes a school's performance in a concise way that is commonly understood. The table below shows the scale used to determine school letter grades.
| CCRPI Score | Letter Grade |
| --- | --- |
| 90.0 or higher | A |
| 80.0 - 89.9 | B |
| 70.0 - 79.9 | C |
| 60.0 - 69.9 | D |
| Lower than 60.0 | F |
In addition to the A-F letter grade, each school's report includes student performance on the Georgia Milestones, enrollment demographics and other key indicators of student success. Website users can also utilize an interactive tool to compare their school to other schools, districts and the state. An example of a school's report is below.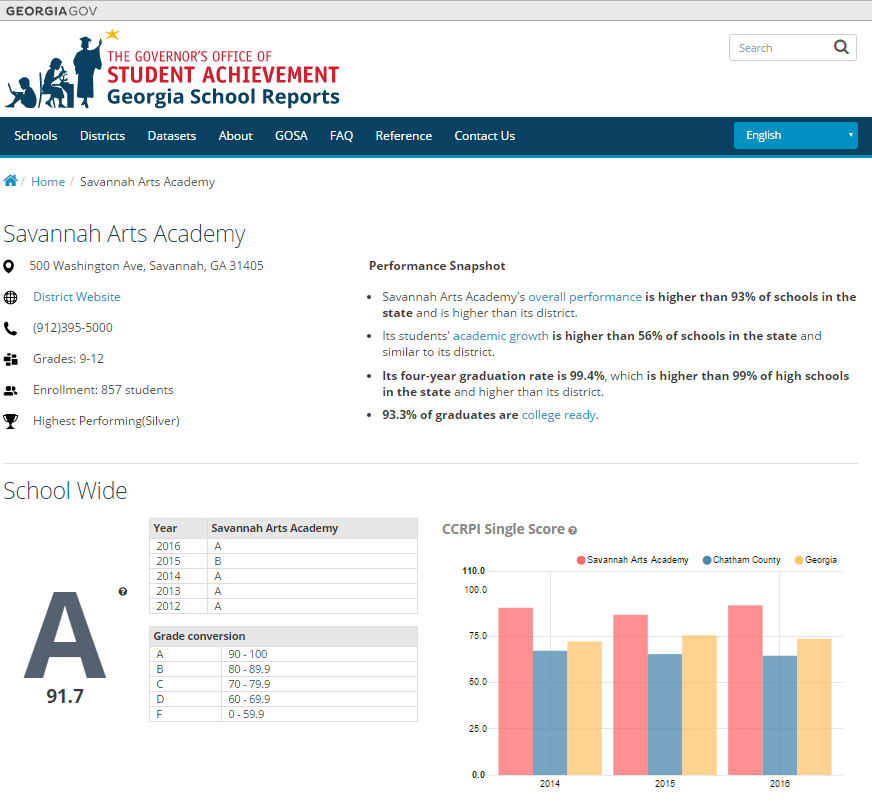 The Georgia School Reports website is available here. 
Additional reporting elements will be added and made visible later in January when the Georgia Department of Education releases the 2016 Climate and Financial Efficiency Star Ratings. These elements will include student mobility rates, star ratings, district per pupil expenditures and an additional school comparison capability that identifies schools with similar characteristics.
About the list of chronically failing schools
A school that earns a school letter grade of F (a CCRPI score of less than 60) for three consecutive years is considered a "chronically failing school." This current list uses CCRPI scores from 2014, 2015 and 2016.
This newly updated list includes 153 schools from 35 districts. The number of schools increased from 127 schools in 2015. A majority (68%) of the schools on this year's list were also considered chronically failing in 2015. Forty-eight schools are new to the list and 13 schools were removed from the list for improved performance on the CCRPI. Only three districts have fewer schools on the list compared to last year: Bibb County (two fewer), DeKalb County (two fewer) and Muscogee County (one fewer). Chatham County (six more) and Fulton County (four more) saw the largest increases.