Southwest Georgia's STEM Grant Opportunity: Project Lead The Way
June 19, 2017
By Alexandria Williams and Rosaline Tio
What is Project Lead The Way?
Project Lead The Way (PLTW) is a national nonprofit organization that aims to promote real world, STEM (Science, Technology, Engineering, and Math) education for K-12 students. In 2015, GOSA announced an Innovation Fund grant opportunity for schools in Southwest Georgia to implement PLTW's K-12 pathways for students. PLTW provides curricula and equipment kits that help students develop problem-solving strategies, critical and creative thinking, and skills in communication and collaboration through hands-on learning and real-world scenarios. PLTW also provides teachers with extensive professional development that gives them the support and resources necessary to engage students in authentic STEM experiences.[1]
Who Can Participate?
Through the PLTW grant opportunity, GOSA aimed to target high-need, rural areas in Georgia that lacked the infrastructure for implementing high-quality STEM education for students. Schools from the Southwest Georgia, Coastal Plains, and Chattahoochee-Flint Regional Education Service Agencies (RESAs) were eligible to apply for the Southwest Georgia STEM Grant.[2] During the 2016-2017 school year, 59 schools were selected to comprise the first cohort of PLTW schools. The map below shows participating schools in the three eligible RESAs.
Figure 1: PLTW Participating Schools
PLTW-Participating-Schools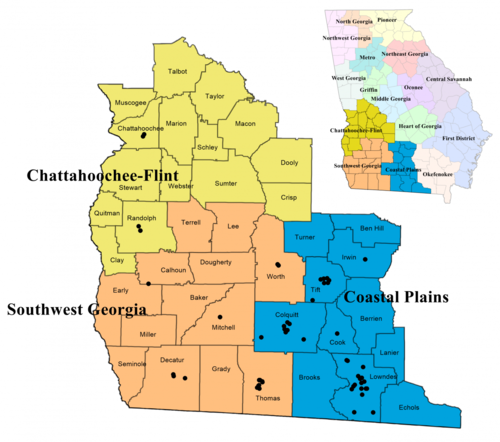 Program Details
Depending on the type of school and program offered, the grant awards ranged from $8,200 to $28,020, to be distributed on a three-year schedule. These funds can be spent on approved products and services for teachers and students, including teacher training, PLTW participation fees, and equipment kits for PLTW modules.
There are five different participation pathways in PLTW. Each pathway has grade-specific standards that are aligned to meet the needs of students in each grade.[3] The table below provides a brief description of each pathway.[4]
Table 1: PLTW Pathway Descriptions
| | | | |
| --- | --- | --- | --- |
| Pathway | Grades Served | Description | Number of Participating Schools[5] |
| | K-5 | The Launch pathway allows elementary school students to engage in hands-on activities in computer science, engineering, and biomedical science. The activities encourage a design thinking mindset through authentic activities. Each grade level has four modules that can be implemented independently or in tandem with one another. | 37 |
| | 6-8 | The Gateway pathway enables middle school students to explore topics such as coding and robotics, flight and space, and DNA and crime scene analysis in a hands-on manner. Students engage in collaborative problem solving tasks focused on real world problems. | 15 |
| | 9-12 | The Computer Science pathway is an interdisciplinary, project-based program that encourages high school students to develop computer science knowledge and computational thinking skills. | 4 |
| | 9-12 | The Engineering pathway allows high school students to tackle interdisciplinary topics in engineering, such as affordable housing design, biofuel production, and app development. Students discover new career paths and work in teams to design and test solutions. | 4 |
| | 9-12 | The Biomedical Science pathway allows high school students to engage in hands-on activities using the same tools found in real hospitals and labs. Students investigate topics including human medicine, physiology, genetics, microbiology, and public health. | 2 |
Prior to the start of the 2016-2017 school year, teachers in participating schools received summer training from PLTW staff. During the school year, teachers accessed additional online support from their PLTW master teacher.
During the first year of the grant, implementation varied among schools. Some elementary schools implemented PLTW modules in gifted classes, while others incorporated PLTW content into STEM electives. Middle and high schools implemented one PLTW course during the first year, with the expectation that each would implement one new course per year over the three-year grant period. All high school students in the PLTW courses had the option to apply for college credit, with the requirement that a transcription cost be paid by the student for such credit. 
PLTW Spotlight: Colquitt County Schools
Colquitt County Schools in Coastal Plains RESA had eight schools participating in PLTW during the first year—six elementary schools, one junior high school, and one high school. The method of PLTW implementation varied across the elementary schools, and several schools experienced success and observed positive changes in the first year. For example, Odom Elementary School, where all teachers incorporated PLTW modules into their science lessons, saw improvements in 5th grade science performance on district benchmarks during the 2016-2017 school year. At Cox Elementary, district staff observed high levels of student engagement and creativity during PLTW modules. During conversations with students, district staff found that students could clearly relate PLTW module activities to concepts they were learning in their science curriculum. As a result of PLTW's professional development, the district also noticed teachers using more interactive, project-based lessons.  Moving forward, Colquitt County Schools plans to encourage additional schools to participate in PLTW and train teachers using the PLTW approach.
Next Steps
The first cohort of PLTW schools will continue implementing PLTW pathways during the 2017-2018 school year. Another funding cycle will be offered to schools that meet the qualifications for the grant. Eligible schools will be notified and provided information when the application materials are ready for the next funding cycle. Visit GOSA's PLTW page for more information.  
[1] For more information on GOSA's work with PLTW, visit the PLTW page on GOSA's website. For more information on PLTW in general, visit PLTW's home page.
[2] Georgia has 16 RESAs that provide educational services to member school systems and promote the state's education initiatives. Visit the Georgia Department of Education website for more information.
[3] For more information on how the standards are aligned, please visit PLTW's website.
[4] For a list of modules and courses offered for each pathway, visit PLTW's Launch curriculum, Gateway curriculum, Computer Science curriculum, Engineering curriculum, and Biomedical Science curriculum.
[5] Some schools are implementing multiple pathways so the total number of pathways does not equal the total number of participating schools.