An Introduction to Quality Rated: Georgia's Tiered Quality Rating and Improvement System for Child Care Providers
August 26, 2014
By Nnenna Ogbu
In 2012, the Georgia Department of Early Care and Learning (DECAL) launched Quality Rated, a star rating system to improve the quality of early care and education programs as well as provide families with clear information on these programs. Many states have implemented tiered quality rating and improvement systems (QRIS) initiatives similar to Georgia's, with the goals of raising the quality of early care and education and positively impacting child outcomes. The systems generally assign ratings (e.g., 1-, 2-, or 3-stars) to child care providers and offer supports for quality improvements.  Nationwide, tiered QRIS have been around since the 1990s.  Typically, a QRIS includes five elements:
Quality standards
A process for monitoring or assigning ratings based on quality standards
A process for supporting providers in quality improvement
Financial incentives
Dissemination of ratings to parents and other consumers[1]
In July 2013, DECAL began publishing the initial rating results of Quality Rated providers. As of July 2014, nearly four hundred of Georgia's 5,454 child care providers have been rated.
 
Not Rated
1-Star
2-Star
3-Star
Total Number of Rated Programs

Quality Rated Results

(as of July 2014)

1%
24%
44%
31%
380

Source: DECAL
Note. There are four categories of child care providers: (1) Child Care Learning Center, (2) Family Day Care Home, (3) Group Day Care Home, and (4) Other. See DECAL's website for definitions of each program type.
When a child care program participates in Quality Rated, it means that program has voluntarily decided to subscribe to higher standards than the state's basic licensing requirements and is committed to improving the quality of care it provides to children and families. Programs undergo a rigorous three-phase process to be awarded a 1-, 2-, or 3-star rating, which indicates that the program is of exceptional quality. 
 
 
 
 
 
 
 
 

Quality Rated and Georgia's Race to the Top-Early Learning Challenge Grant (RT3-ELC

Georgia is one of twenty states that has won awards under RTT-ELC, scoring second high est amongst its round of applicants and receiving the largest financial award – over $51.7 million – in its group. The funding is designed to support efforts over a four-year grant period, from January 2013 through December 2017.

The bulk of Georgia's RTT-ELC grant funds will go to supporting Quality Rated by promoting the access and availability of high-quality child care programs for families of children with high needs and by improving the overall quality of early learning and development programs and early childhood instruction statewide.

For more information on Georgia's Early Learning Challenge grant or application, please visit the DECAL website or contact Kristin Bernhard, DECAL's Deputy Commissioner for System Reform, with specific questions.3  The Governor's Office of Student Achievement previously published an education update as a brief overview of Georgia's Race to the Top-Early Learning Challenge grant. Click here to access the March 2014 education update.
How Programs Become Quality Rated
Any licensed child care provider is eligible to participate in Quality Rated. During the first phase, the application phase, programs submit their licensing credentials to prove eligibility. The second phase is the portfolio phase, an in-depth collection of documents and narratives designed to help programs think critically about the quality of care they provide and creatively about the ways they can improve their quality. The portfolio measures programs' structural quality based on five standards: (1) provider qualifications; (2) child health, nutrition, and physical activity; (3) family partnership; (4) intentional teaching practices; and (5) teacher:student ratios. At the end of the portfolio phase, programs receive anywhere from zero to fifteen points.
The third phase is the observation phase, which measures process quality. The observation phase is completed by highly-trained DECAL assessors who use the Environmental Rating Scales (ERS), a professional assessment tool, to evaluate the practices, interactions, and environment directly experienced by children. After the observations are scored, programs receive anywhere from zero to thirty points.
The portfolio and observation stages are scored separately and then combined with bonus points awarded for accreditations to reach an overall program score.  A star rating is awarded on the total number of points a program receives based on the following scale.[2]
| Total Points Received | Star Rating |
| --- | --- |
| 0-14 | Not Rated |
| 14-24 | 1 |
| 25-35 | 2 |
| 36-45+ | 3 |
Source: DECAL's Quality Rated Rating Rubric
As part of the RTT-ELC grant, GOSA is partnering with DECAL to validate Quality Rated and ensure that the various star ratings show differences in program quality. Below is a description of the characteristics of programs in each star category.
Quality Rated.jpg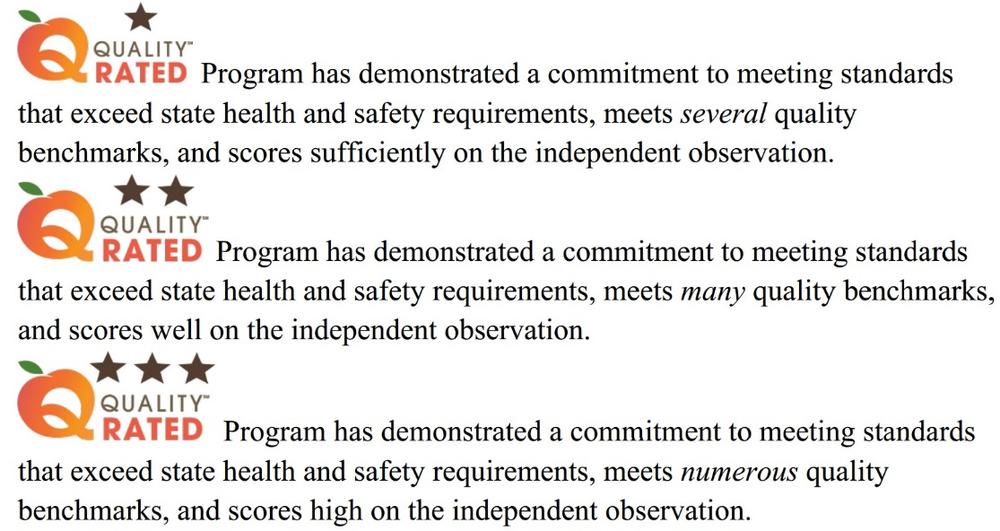 Information for Programs
Quality Rated is designed to help child care programs meet higher standards for quality child care and continuously improve the level of child care they provide. Participation in Quality Rated is voluntary and free. Providers can use the short, online application to get started. Free technical assistance is available to every child care program through one of the six regional Child Care Resource & Referral (CCR&R) agencies. The CCR&R agencies are thoroughly trained on the Quality Rated process and are equipped to help child care programs quickly become Quality Rated. For more information or to locate a CCR&R agency, please follow this link.
By participating in Quality Rated, a child care program shows that it is committed to a process of continuous improvement. DECAL supports this commitment by offering a number of financial incentives and tiered reimbursement to Quality Rated programs. Tiered reimbursement, a program that pays child care providers to help cover the cost of enrollment, is available only to programs that serve children and families eligible for Child and Parent Services (CAPS), which provides subsidies for child care to low-income families. Three different Bonus Packages are also available to all Quality Rated programs based on their star rating. Bonus Packages are fully customizable and include incentives for credentialing, equipment, curriculum, and professional development.
For more information on Quality Rated, please contact the Quality Rated help desk at [email protected] or call 1-855-800-7747.
Information for Parents
Parents who choose Quality Rated program are choosing to send their child to high-quality child care program. DECAL provides a searchable database where parents can go online and find a Quality Rated program nearby.
For more information about Quality Rated and how it affects Georgia, its children, and its families, please visit the official Quality Rated website.
Summary
Georgia is still in the early stages of implementing is Quality Rated initiative. Each day, more child care providers participate in the system and commit to improving the quality of their early care and education programs. And each year, Quality Rated providers have an opportunity to showcase their programmatic improvements and receive a higher rating. Overall, the growth of the system will ultimately serve Georgia's children and families by giving parents another tool to make the best choice for their children.  
[1] See Paulsell, Tout, and Maxwell (2013) "Evaluating Implementation of Quality Rating and Improvement Systems"
[2] Programs can also earn bonus points for having certain accreditations. Click here for more information on Quality Rated scoring and rubrics. For specific questions regarding the Quality Rated scoring rubrics, please contact the Quality Rated help desk at [email protected] or 1-855-800-7747.