Educators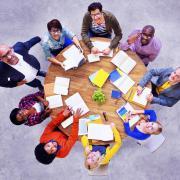 GOSA aims to provide information and data designed to deliver insights and opportunities to educators that can be used to assist students on their path to success.
What's your goal?
Find information about district- and school-level performance
Conduct post-secondary analysis
Learn about educational grant opportunities and other innovative initiatives
Check out a few resources below:
Current Grant Opportunities
Current grant opportunities are closed at the present time; please continue to check back for new grant opportunities. To find information on inactive and/or past grants and initiatives, visit the Archives page.
A comprehensive resource that provides concise school performance reports for all public elementary, middle, and high schools in Georgia.
An interactive dashboard that shows what high school graduates do following graduation. 
The L4GA 2019 Grant application deadline has been extended to Feb. 10, 2020 at 5 p.m.
A video series highlighting exceptional educators around the state. 
External Resources
College and Career Ready Performance Index (CCRPI): Georgia's comprehensive school improvement, accountability, and communication platform.
Georgia Professional Standards Commission: Agency responsible for the preparation, certification, and professional conduct of certified personnel employees in Georgia public schools.
Georgia Public Broadcasting | Innovation in Teaching Competition: Digital library of videos and unit plans from award-winning teachers that promote excellence in the classroom.
Get Georgia Reading: Partners dedicated to creating a framework of action to make all children in Georgia proficient readers by the end of third grade.
Regional Educational Service Agency (RESA): Agency designed to improve the effectiveness of educational programs and member school systems in 16 regions across Georgia.