Educators
GOSA aims to provide information and data designed to deliver insights and opportunities to educators that can be used to assist students on their path to success.
large_Educators.jpg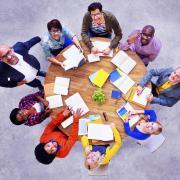 What's your goal?
Find information about district- and school-level performance
Conduct post-secondary analysis
Learn about innovative education initiatives
New Resources 
Information for Georgia Educators, including: Assessment and Training Calendar for 2022-23; Assessment Handbook; User Guides and Forms.
Ongoing Resources
Georgia's comprehensive school improvement, accountability, and communication platform.
A video series highlighting consistently high-performing Georgia public schools which demonstrate excellent student outcomes despite challenging student demographics. 
Equipping educators with the skills and tools to teach economics, personal finance, and college and career readiness.
Georgia Aquarium's school programs provide opportunities for students to discover the aquatic realm in an immersive, standards-based learning environment.
Agency responsible for the preparation, certification, and professional conduct of certified personnel employees in Georgia public schools.
Digital library of videos and unit plans from award-winning teachers that promote excellence in the classroom.
As part of its mission, GOSA presents its annual report on Georgia's public education agencies. The Report Card was developed in compliance with both state and federal laws with the intent of measuring school performance as it pertains to the goals of student achievement and school completion. The report card includes school, system, and state level reports, which provide valuable information to educators, parents, students, and stakeholders.
A comprehensive resource that provides concise school performance reports for all public elementary, middle, and high schools in Georgia. 
Partners dedicated to creating a framework of action to make all children in Georgia proficient readers by the end of third grade.
Grant Opportunities
Current GOSA grant opportunities are closed at the present time; please continue to check back for new grant opportunities. To find information on inactive and/or past grants and initiatives, visit the Archives page.
Over 10 years of High School graduates and their education progression —  This interactive dashboard shows what high school graduates do following graduation.  
CSRA RESA has FREE rigorous writing lessons for K-12 teachers
Agencies designed to improve the effectiveness of educational programs and member school systems in 16 regions across Georgia.
Georgia will receive a total of $179,174,766 over five years to continue the Literacy for Learning, Living, and Leading in Georgia (L4GA) initiative, which aims to improve literacy outcomes for students from birth through grade 12. 
A video series highlighting exceptional educators around the state. 
Environmental Protection Agency, Office of Wetlands, Oceans and Watersheds: Offers training modules, seminars, courses, and documents associated with watershed approaches.