Community Stakeholders
large_Community.jpg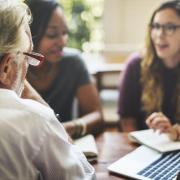 GOSA aims to provide the community with access to information and data designed to deliver insights, and educate community personnel on statistics relevant to the state's educational objectives.
What's your goal?
Conduct research for a school-, district-, or statewide analysis
Analyze school performance
Learn what educational success looks like across the state of Georgia
Main Resource Categories
Dashboards, Data and Report Card
GA•AWARDS (Georgia's Academic and Workforce Analysis and Research Data System): Georgia's Pre-K through workforce longitudinal data system.
Research, Evaluation, and Auditing
Additional Resources
Demographics ≠ Destiny (En Español): A video series highlighting consistently high-performing Georgia public schools which demonstrate excellent student outcomes despite challenging student demographics. 
High School Graduate Outcomes: Over 10 years of High School graduates and their education progression —  This interactive dashboard shows what high school graduates do following graduation.  (This data-set currently contains 2007-2017 statewide data.)
Report Card: An annual report card that provides information relevant to school performance for a comprehensive view of schools, systems, and the state. 
External Resources
Governor's Office: Governs the state of Georgia.
Georgia Department of Education: Governs public education in the state of Georgia.
Georgia Department of Early Care and Learning: Meets the child care and early education needs of Georgia's children and their families.