Statewide Evaluation Goal 2
Measure how well the Lowest-Achieving Schools (LAS) were "turned around"
Here, we are interested in observing how well the schools that were identified as persistently lowest achieving under RT3 improved as a result of implementing one of the four reform models.
The evaluation is based on the following theory of change:
Goal_2_Theory_of_Change.PNG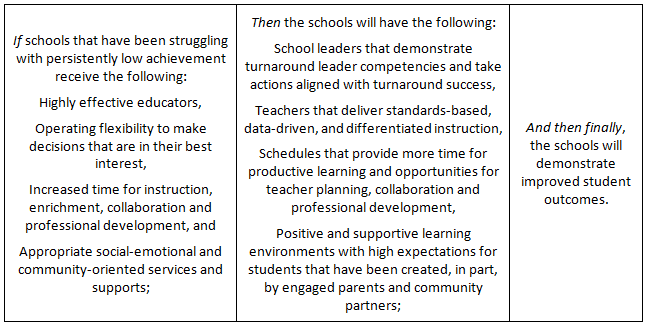 During the spring of 2012, GOSA conducted interviews at the school, district and state levels to gain a stronger understanding of early implementation of school turnaround efforts in a sample of schools and districts.  The findings from these interviews helped identify areas where additional monitoring and support were necessary, and thus, are the foundation for the overall evaluation of Georgia's lowest-achieving schools' work.  Therefore, GOSA's evaluation of the lowest-achieving schools serves both formative and summative purposes.
Formative Evaluation Focus
The formative evaluation will be facilitated through regular monitoring of the LAS dashboard.  The LAS dashboard contains leading indicators of school turnaround from GaDOE, US ED, Mass Insight and Public Impact.  This is an internal document that will be used primarily for program planning purposes.
Summative Evaluation Focus
We plan to conduct a qualitative and quantitative summative evaluations of lowest-achieving schools.
Quantitative Quasi-Experimental Study
We intend to conduct a quasi-experiment of the lowest-achieving middle schools.  Unlike SIG schools, RT3 LAS did not have the option to apply for the grant and thus are not susceptible to selection bias. Instead, GaDOE selected all schools located in partner districts that were NI-5 or higher.  This clear cutoff allows us to create a comparison group with the next 10 middle schools in partner districts that narrowly missed eligibility (NI-4 or less) that mimics randomization. This comparison group will allow us to perform a regression discontinuity design to investigate whether the lowest-achieving middle schools achieved better results than other similar schools that did not receive the interventions.  Depending on the availability of student-level data, we will disseminate a final report by summer 2016.
The following table provides evaluation reports or the expected dates the reports will be posted.
The contents of the reports on this website were developed under a grant from the U.S. Department of Education. However, those contents do not necessarily represent the policy of the U.S. Department of Education, and you should not assume endorsement by the Federal Government.