Background
GHP continuously seeks to increase participation from school districts, independent schools, and homeschooled students at the local level. As a part of this outreach, we are launching the Student Site! The goal of the Student Site is to showcase the many performances/projects produced during the annual summer program.
screenshot 1 for GOSA page.png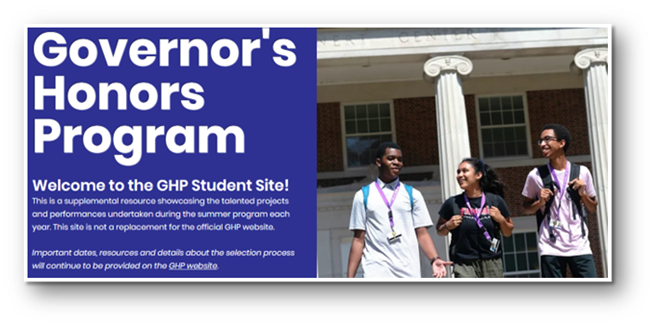 1964 to 2021 Retrospective
During the 2021 summer program GHP undertook a Strategic Planning Retreat comprised of recent alum in addition to former and current coordinators. The purpose of this retreat was to understand the strengths of the summer program, potential weaknesses, opportunities for growth and threats to the nearly 60-year history of the Governor's Honors Program. At this time the threat of future pandemics was clearly on the mind of many participants due to COVID-19. From the retreat, and prior discussions between program staff over the years, came an understanding of the needs and hopes from the diverse group of participants for GHP.
GHP Ticket resize.jpg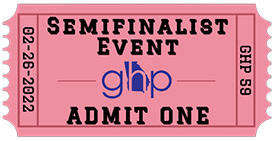 One of the specific opportunities for the program centered around program visibility and student voice. If you know of or were yourself a recent semifinalist or finalist, you will have come across some the new marketing pieces GHP has used to increase its visibility. Ranging from stickers commemorating events to powerful infographics providing top line facts about the program. GHP has made a concerted effort to leave a piece of the program in the hands of supporters and families alike who participate in the program.
2022 Forward
"You really have to see it to understand it." A refrain used by many people to describe the experiences, brilliance, and accomplishment that GHP participants bring with them to the summer program and produce throughout its 4-weeks. It is a statement that truly reflects the unique opportunities that GHP offers to students that is significantly different from the typical classroom. Today, this is what we offer you, to see the program firsthand through the GHP Student Site. Using the link below GHP would like you to truly recognize the caliber of students that make the summer program special.
GHP Student Site
*The GHP Student Site is currently optimized for a desktop experience. A mobile version is currently in development.